Comprehensive Cleaning Services: A Range of Solutions for Every Need
Home
/
Comprehensive Cleaning Services: A Range of Solutions for Every Need
Posted on
October 3, 2023
In today's fast-paced world, the demand for cleaning services has never been higher. As our lives become increasingly busy, the need for professional cleaning solutions has become a practical necessity.
However, explore a diverse spectrum of Taren Point cleaning services that cater to various settings and requirements. From the meticulous upkeep of residential spaces to the pristine maintenance of commercial establishments and the unique demands of strata properties, we delve into the world of house cleaning, commercial cleaning, strata cleaning, office cleaning, Airbnb cleaning, and end-of-lease cleaning, shedding light on their distinct purposes and the benefits they offer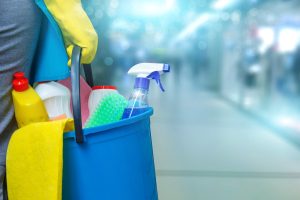 House Cleaning:
House cleaning is a fundamental service designed to maintain the cleanliness and hygiene of residential properties. It encompasses a wide range of tasks, from basic daily chores like dusting, vacuuming, and mopping to more extensive cleaning such as deep cleaning, window washing, and upholstery care. We tailor plans to meet the specific needs of homeowners and schedule them on a regular or one-time basis. Our team aims to create a healthy and comfortable living environment while saving homeowners valuable time and effort. So, connect with us via Facebook!
Commercial Cleaning:
Commercial cleaning services are essential for maintaining a professional and sanitary workplace. We handle floor cleaning, restroom sanitation, office equipment cleaning, and disinfection. Our experts often operate after business hours to minimize disruption to daily operations. Check our services by visiting our Twitter handle!
Strata Cleaning:
Strata cleaning focuses on shared spaces within multi-unit residential buildings or complexes. It involves cleaning and maintaining common areas like hallways, lobbies, elevators, and parking lots. This way, all residents can enjoy a clean and safe living environment. We, Taren Point cleaning experts, help uphold property values and foster a sense of community by maintaining these shared spaces to a high standard.
Office Cleaning:
Office cleaning services are for business offices and corporate environments. We include desk cleaning, IT equipment sanitation, and document disposal. Our office cleaners understand the unique requirements of office spaces, including sensitive equipment and confidential information. Hence, contact us!
A clean and organized office promotes a healthier workspace, boosts productivity, and leaves a lasting impression on clients and partners.
Airbnb Cleaning:
Airbnb cleaning services cater to hosts who rent out their homes or properties on short-term platforms like Airbnb. These services focus on quick turnaround times between guest stays. Shire Cleaners include tasks like changing linens, restocking supplies, thorough cleaning, and property inspections. We ensure each guest enjoys a fresh and hygienic experience, leading to positive reviews and increased bookings.
End of Lease Cleaning:
End-of-lease or bond cleaning is essential when moving out of a rented property. It's a comprehensive cleaning service that ensures the property is in the same condition as when the lease began. This service typically includes deep cleaning of all areas, including carpets, walls, appliances, and fixtures. End-of-lease cleaning helps tenants secure their deposit refunds and leaves property owners with a well-maintained space for the next occupants.
To Draw A Conclusion!
By outsourcing these services to professionals, individuals and organizations can enjoy the benefits of impeccable cleanliness and hygiene while freeing up time and resources for other priorities. So, call our Taren Point cleaning team and enjoy a satisfying experience within your budget.