The Compelling Reasons to Hire a Local Company for House Cleaning
Home
/
The Compelling Reasons to Hire a Local Company for House Cleaning
Posted on
August 14, 2023
Keeping your home clean and well-maintained is essential for a comfortable and healthy living environment. When it comes to house cleaning, opting for a local cleaning company can offer numerous advantages. Curious to explore? Unveil the top five compelling reasons to approach a local cleaning company for your house cleaning needs. From personalized service and attention to supporting the local economy, there are several benefits to be gained by choosing a trusted local cleaning company. Let's dive in and discover why going local is a smart choice for house cleaning.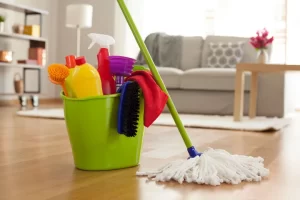 Personalized and Tailored Service:
Local cleaning companies prioritize personalized service and tailored cleaning solutions to meet the specific needs of homeowners. They take the time to understand your cleaning requirements, preferences, and particular areas that need special attention. With a local company, you can expect a more customized approach to house cleaning, ensuring your home gets cleaned according to your unique standards and expectations.
Familiarity with the Local Area:
A local cleaning company like ours has a deeper understanding of the local area and its unique cleaning challenges. They are familiar with the climate, environmental factors, and usual cleaning issues specific to your region. This knowledge allows them to use appropriate cleaning techniques, products, and equipment to tackle local cleaning challenges effectively. Their expertise in local cleaning nuances ensures a thorough and efficient cleaning experience.
Trusted and Reliable Reputation:
Local cleaning companies rely on their reputation within the community to thrive. They strive to provide exceptional service to build long-term relationships with clients. By choosing a reputable local cleaning company, you can benefit from its established track record of reliability, professionalism, and quality service. Local references and reviews are readily available, giving you peace of mind and confidence in their ability to deliver consistent and trustworthy house cleaning services.
Support for the Local Economy:
Opting for a local cleaning company contributes to the growth and sustainability of the local economy. When you choose local services, you are supporting small businesses, job creation, and economic development within your community. By investing in a local cleaning company, you play a vital role in fostering local entrepreneurship and strengthening the local business ecosystem.
Flexibility and Responsive Customer Service:
By choosing local cleaning companies, you can enjoy greater flexibility in scheduling and adapting to your definite needs. They understand the value of customer satisfaction and aim to provide responsive and attentive customer service. Whether you require a one-time deep clean or regular maintenance cleaning, local cleaners can often accommodate your preferred schedule and address any last-minute changes or requests promptly.
Professional Image:
Your office space reflects your organization's professionalism and attention to detail. When hosting an event, you want to create a positive and lasting impression on your guests. A clean and well-maintained office portrays a professional image, instilling confidence in your guests and enhancing your brand reputation. We play a crucial role in upholding this image by ensuring a pristine and organized environment that reflects your commitment to excellence. Connect with us through Facebook and Twitter!
Conclusion:
Approaching a local cleaning company for your house cleaning needs offers several compelling advantages. Shire Cleaners can be your first option in this case. We can offer you the best cleaning services at the most upfront pricing. Our staff is friendly and experienced. And our local residential and commercial cleaning experts use the most advanced tools and cleaning supplies to perform all the cleaning chores, including vacuuming, scrubbing, dusting, mopping, and more. So, do not hesitate to contact us!