The Range of Cleaning Services Shire Cleaners Offers for Your Need
Home
/
The Range of Cleaning Services Shire Cleaners Offers for Your Need
When it comes to keeping your space clean and pristine, Shire Cleaners is your go-to solution. With a wide range of professional cleaning services, we cater to various requirements, from residential to commercial spaces. In this blog, we will explore the different types of cleaning services Shire Cleaners offers, including house cleaning, commercial cleaning, end-of-lease cleaning, regular cleaning, one-off cleaning, and office cleaning in Miranda.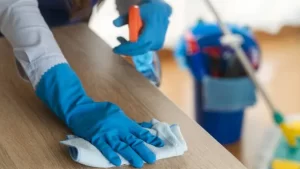 Discover how our expert team can transform your surroundings into spotless and inviting spaces.
House Cleaning:
Shire Cleaners understands the importance of a clean and healthy home environment. Our house cleaning services get tailored to meet your specific needs, whether a one-time deep clean or regular maintenance. Our skilled cleaners will tackle tasks like dusting, vacuuming, mopping, kitchen and bathroom cleaning, and more, leaving your home fresh and sparkling.
Commercial Cleaning:
Shire Cleaners specializes in providing comprehensive commercial cleaning services to businesses of all sizes. From offices to retail spaces, we ensure your workspace is clean, sanitized, and conducive to productivity. Our commercial cleaning services include floor cleaning, window cleaning, dusting of surfaces, restroom sanitization, and trash removal, creating a clean and welcoming atmosphere for employees and clients.
End of Lease Cleaning:
Moving out can be stressful, but Shire Cleaners offers end-of-lease cleaning services to ease the burden. Our professional cleaners will thoroughly clean your rented property, meeting the strictest standards required by landlords or property managers. From deep cleaning carpets to sanitizing bathrooms and kitchens, we ensure that your property is left in immaculate condition, helping you secure your bond refund.
Regular Cleaning:
Maintaining a clean and organized home or office requires consistent effort, and Shire Cleaners offers regular cleaning services to simplify your life. Our team will work with you to create a customized cleaning schedule that suits your needs and preferences. With regular visits, we will keep your space consistently tidy, allowing you to focus on other priorities while enjoying a clean and welcoming environment.
One-Off Cleaning:
Sometimes, you may need a thorough cleaning in Miranda for special occasions or when life gets too busy. Shire Cleaners' one-off cleaning services get designed to handle those specific situations. Whether preparing for a party, post-renovation cleanup, or a spring cleaning session, our team will deep clean every nook and cranny, ensuring your space looks its best.
Office Cleaning:
Shire Cleaners recognizes the importance of a clean and organized office environment. Our office cleaning services get tailored to meet the unique needs of businesses. From conference rooms to workstations, we will ensure that your office space is professionally cleaned, creating a hygienic and inviting atmosphere for your employees and visitors.
The Final Thought!
Do you need to hire pro-level cleaners for cleaning services in Miranda? You can rely upon someone reliable in this domain. We are one of the leading cleaning companies where you can consult some of the most experienced cleaners. We have experienced and friendly cleaning staff to deliver you quality cleaning services. Go through our website or Facebook and Twitter to learn more about us.