The Tips on Routine Leather Furniture Cleaning: An Expert Guide!
Home
/
The Tips on Routine Leather Furniture Cleaning: An Expert Guide!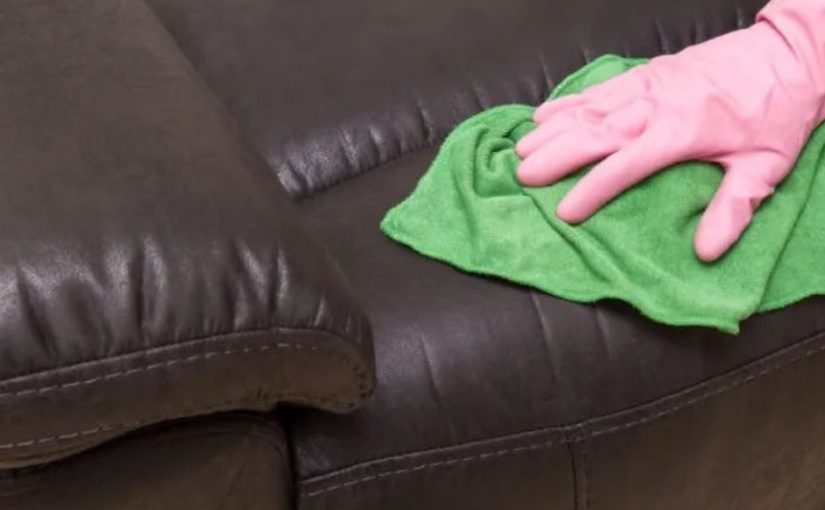 Posted on
November 9, 2022
Cleaning a couch is easy. But when it comes to cleaning a leather couch, you may feel like a challenge. It can only be easy once you know the correct procedure.
To most homeowners, leather is a fabulous upholstery choice as it remains well for so long if it's given the proper attention.
Here are the tips to follow on how to clean leather upholstery and maintain routine leather furniture cleaning steps.
Tips On Routine Leather Furniture Cleaning!
1. Vacuum A Leather Couch
First, remove the throws and pillows from the couch. And check down the sides and back. Then use a vacuum cleaner with the brush attachment on your leather couch to avoid scratches.
Gently absorb all the crumbs and debris built on the surface with a slow sweeping motion. You can use the crevice tool to extract anything from the edges and clean the seams. Repeat this process on the cushions too.
2. Wipe Down A Leather Couch
Before going ahead, look at the furniture tag for the manufacturer's guidelines.
You can apply a water-based cleaner if you find an AW on the label. S or P means you can clean it only with solvents. SW or WS means that a homeowner or a pro cleaner can use either a water-based detergent cleaner. In that case, a steam cleaner will be acceptable to use, too.
And, X means you can't use any water or detergent on the leather. Then you need to hire us to get professional leather furniture cleaning instead.
Most couches are okay with a slightly damp cloth to give them a fresh look. However, please make sure the cloth is only damp and not wet entirely. Otherwise, you will create a mess.
3. Clean A Leather Couch With A Specialist Product
Generally, a pro leather cleaner uses a specialist product for leather furniture cleaning. This step has become popular, so the leather cleaner market will see big revenue growth in the future, according to a report.
They sprinkle the cleaner on the couch or moisten the cloth to wipe down the upholstery.
Here, it is essential to work gently. You can not rub the leather hard. Better to consider leather furniture cleaning professional for the same.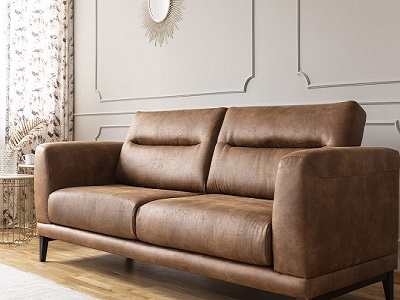 4. Condition A Leather Couch
Our cleaners use a leather conditioner to protect a new couch or soften and moisturize old leather.
If you want to use it too, use it according to the manufacturer's instructions. Here, also we suggest relying upon a professional for this step.
5. Call The Professionals Once A Year
To prolong the life of your leather upholstery, consider hiring expert cleaners once a year. Besides, when you find a stubborn stain on your leather couch, call us.
Remember, DIY cleaning may not help. And don't get tempted to scrub. You may cause more harm than good. Instead, it is best to schedule an appointment with a professional upholstery cleaner.
Can You Use Vinegar To Clean Your Leather Couch?
White vinegar is an effective product to clean a leather sofa. But do test it in an inconspicuous place first.

If you get the green signal, mix equal portions of water and vinegar, then cleanse it using a microfiber cloth. 

Clean from top to bottom with the cloth rinsing in the DIY cleaning solution from time to time.

Ensure the cloth is just damp, not wet. Otherwise, you can not avoid damage to the leather.

Then dry the furniture with a soft clean towel.

Use this step with caution!! Otherwise, you can remove ink from leather with vinegar.
Wrapping Up!
Are you looking for wallet-friendly and excellent leather furniture cleaning services? Select cleaners like us who can deliver quality guaranteed service at the most upfront pricing. We aim to offer a satisfying experience to each client. You can rest assured that our efficient cleaners will provide quality services that exceed your expectations.
Get in touch with us by clicking on our Facebook and Twitter pages!