Types Of Couches That Need Pro Leather Upholstery Cleaning Services
Home
/
Types Of Couches That Need Pro Leather Upholstery Cleaning Services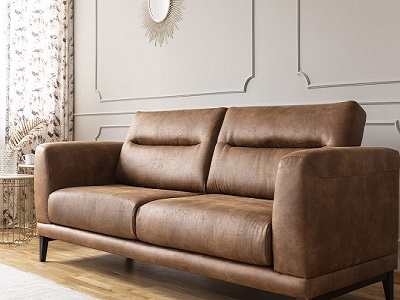 The couch is not just a luxurious piece of your apartment! But it is also your favourite space where you prefer to spend most of your leisure time.
Thus, it is necessary to get the right one for yourself and keep it well maintained. Many people focus more on two factors- comfort and appearance while buying them. But, what is equally important to check is how easy or difficult the cleaning process would be!
Even if you hire professional leather upholstery cleaning services, the service might get expensive because of the fabric. Yes! Some fabric is really hard to clean!
In this blog, we will share the top three types of couches that are very difficult to clean at home.
1. Velvet Couch
It is the most stylish range of couches available on the market. And yes! They are expensive, too. Velvet couches look appealing and are considered a style statement by many homeowners.
But the fact is, it is one of the toughest upholstery fabrics to clean. The best couch cleaning service providers said that dirt and dust linger with velvet. In addition, pet hair gets embedded with the fabric of this type of sofa set.
And you must know regular vacuuming cannot restore its original clean look.
Unfortunately, this type of sofa fabric gets discoloured fast and permanently damaged if you apply any wrong DIY leather upholstery cleaning method.
Thus, you can rely upon professionals to clean the velvet sofa.
2. Suede Couch
It is another couch material that gives elegant looks to a living room. And thus, it attracts many homeowners to buy it.
Here, the concerning point is that this fabric prohibits any type of liquid, including water. You can not use regular cleaning solutions like detergent or dish soap. It can make the situation worse.
That means it is hard to clean the suede couch with any DIY method of leather upholstery cleaning. You can hire pro couch cleaning services from the best couch cleaning service provider like us to clean this type of couch.
3. Leather Couch
Want a classy look for your living room? Then a leather couch is for you. Do you know it needs way more care and maintenance than any other type of couch fabric?
Yes! Many homeowners think it is easy to maintain a leather couch. They also have a myth that leather upholstery cleaning is easy, but the fact is the opposite of that.
It needs proper conditioning and cleaning practices. You may have known that leather can get discoloured fast and faded with the wrong cleaning hacks. Food and beverages can get stuck and make the couch dirty like ever. This may cause stubborn stains that ruin the beauty!
Here, you need the best couch cleaning service to get handled well.
Why?
It is necessary not only for the extended life and enhanced appearance of the upholstery. But also for enjoying some exciting health benefits. Whether you spend a lot of time at home or not, you need to keep it in good condition as they are pricey.
The Ways Of Keeping Upholstery Well Maintained!
One of the common ways to keep upholstery well maintained is regular leather upholstery cleaning.
Here, you may have a question in mind, how frequently you should clean the upholstery? Here, we will share the right frequency of upholstery cleaning, depending on the cleaning method.
1. Routine Cleaning
Even if you are not investing in frequent professional cleaning, you need to vacuum them frequently. If you have time, you can do a dusting daily or every other day. It helps in decreasing the accumulation of dirt and dust on the couches. You must clean them at least twice a week.
If you are very busy and do not have kids and furry friends, you can vacuum it once a week.
Here, the stain needs to get addressed promptly until it becomes a stubborn stain, which is difficult to remove with DIY cleaning techniques.
2. Deep Clean
Usually, experienced technicians perform deep cleaning in this case. So, the frequency of cleaning can be once or twice in two years for the best results.
If you are trying to deep clean by yourself, make sure you have the required skills and tools for deep cleaning the upholstered furniture. Otherwise, contact us through Facebook for pro cleaning methods.
3. Professional Upholstery Cleaning
There is no better alternative to professional upholstery cleaning to maintain the beauty of the leather furniture and prolong its life.
Certified professionals have the right tools and cleaners to remove dirt, dust, allergens, etc., which are difficult to remove by DIY hacks. Professional leather upholstery cleaning usually includes deep root cleaning or similar cleaning methods.
Here, the frequency of professional cleaning could be at least once in three to six months. So, get in touch with us by visiting our Twitter account.
Wrapping Up!
Need to hire expert leather upholstery cleaning services? You can consider someone reliable in this domain. We are one of the leading names where you find the most experienced cleaners. We are committed to offering top-notch upholstery cleaning services. Go through our Facebook and Twitter to make yourself more informed.